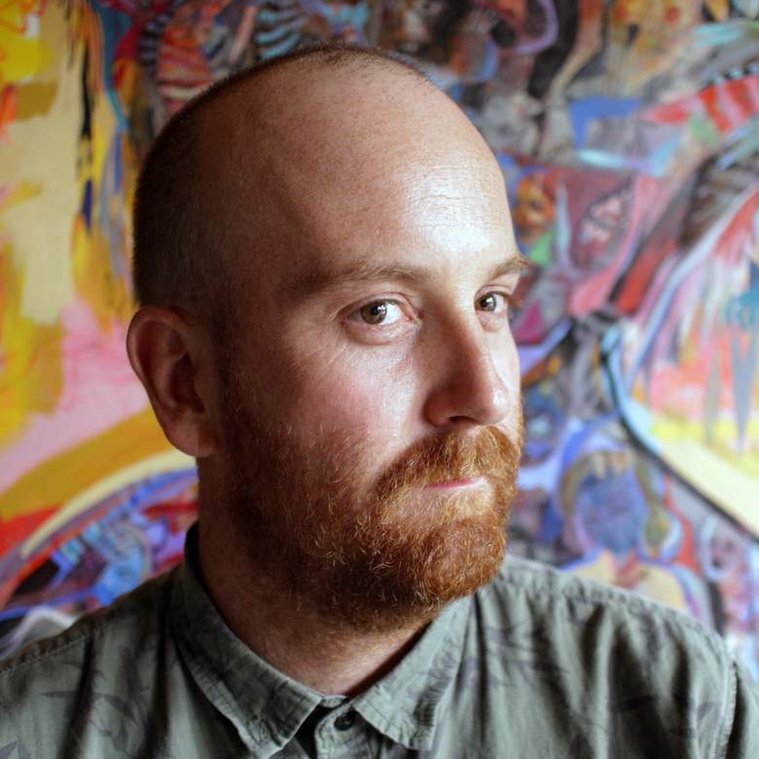 About Me
Jon Todd is a Toronto based mixed mediaartist. Todd combines many mediums in his art including painting on foundobjects, collaging various papers, wood block cuts and screen-printing. Hisartistic process involves layering various mediums coupled with distressingtechniques. It is this process thatgives his art a unique style and places his work in the grey area between rawbeauty and refined chaos.
Todd's unique style of paintings can varyfrom hyper detailed elaborate portraits to bold andintense collage pieces. All his works are adorned with intricate symbolicimages and patterns that allow the viewer to decipher the story behindthe painting and its characters.
Toddcontinues to push the boundaries of his art through continuous research and experimentation with new techniques and styles.
SOLO EXHIBITION
2017, Flanked by Ghosts, Matthew Namour Gallery, Montreal

2016, Ghosts of the Royal, Gallerie Wolfsen, Aalborg, DEN
2015, Ghost Walker, Earl Selkirk Gallery, Toronto, ON, CAN
2014, Art X Night, Soho House, Toronto, ON, CAN
2014, Outsider, Hermann & Audrey Gallery, Toronto, ON, CAN
2013, Butcher's Hook, Yves Laroche Gallery, Montreal, QC, CAN
2012, Trophy, Yves Laroche Gallery, Toronto, ON, CAN
2009, Babylon, Yves Laroche Gallery, Montreal, ON, CAN
2008, Life Sentence, Thinkspace Gallery, Los Angeles, CA, USA
GROUP EXHIBITION
2019, We Are Here. Helium Cowboy, Hamburg, GER

2017, Cowboyland, Helium Cowboy, Hamburg, GER
2017, 40, Gallery Wolfsen, Aaborg, DEN
2017, 1st Birthday, Matthew Namour Gallery, Montreal
2016, Art Miami Art Fair, Matthew Namour Gallery, Miami, FL, USA
2016, Mists of Madness, Helium Cowboy, Hamburg, GER
2016, Grand Opening, Matthew Namour Gallery, Montreal
2016, Scope Art Fair, Gallery Wolfsen, Basel, Switzerland
2015, Scope Art Fair, Gallery Wolfsen, Miami, FL, USA
2015, Tian Tian Group Exhibition, Gladstone Hotel, Toronto, ON, CAN
2015, October Group Exhibition, Parlor Gallery, Ashbury Park, NJ, USA
2015, Rally Group Exhibition, Hermann and Audrey Gallery, Toronto, ON, CAN
2015, Art Copenhagen, Gallery Wolfsen, Copenhagen, DEN
2015, Toronto International Art Fair, Yves Laroche Gallery, Toronto, ON, CAN
2015, Works from the Collection of Terri Lipman, Robert McLaughlin Gallery, Oshawa, ON, CAN
2015, Art Copenhagen, Gallery Wolfsen, Copenhagen, DEN
2015, Toronto International Art Fair, Yves Laroche Gallery, Toronto, ON, CAN
2015, Works from the Collection of Terri Lipman, Robert McLaughlin Gallery, Oshawa, ON, CAN
2015, Mural Art Fair, Yves Laroche Gallery, Montreal, QC, CAN
2015, Beautiful Squalor, Parlor Gallery, Ashbury Park, NJ, USA
2015, Sweet Madness, Gallery Wolfsen, Alborg, DEN
2014, Egregore Group Exhibition, Yves Laroche Gallery, Montreal, QC, CAN
2014, Papier Art Fair, Yves Laroche Gallery, Montreal, QC, CAN
2014, The Alliance Art Exhibition, Spazio Dell'arte Gallery, Toronto, ON, CAN
2013, Supersonic Electronic Invitational 2 Exhibition, Spoke Art Gallery, San Francisco, CA, USA
2013, Papier Art Fair, Yves Laroche Gallery, Montreal, QC, CAN
2012, Cartoon Network 20th Birthday Exhibition, Comic Con, San Diego, CA, USA
2012, Project 31 Exhibition / Auction, OCADU, Toronto, ON, CAN
2012, Papier Art Fair, Yves Laroche Gallery, Montreal, QC, CAN
2012, George Hearts Maria, Helium Cowboy Gallery, Hamburg, GER
2011, Collective Enterprise Exhibition, Montreal, QC, CAN
2010, Skull, Parlor Gallery, Asbury Park, NJ, USA
2010, A New Beginning, 941 Geary, San Francisco, CA, USA
2009, Aqua Art Fair Miami, Yves Laroche Gallery, Miami, FL, USA
2009, Toronto International Art Fair, Yves Laroche Gallery, Toronto, ON, CAN
2008, Gen Art Vanguard Fair, Yves Laroche Gallery, Miami, FL, USA
2008, Deep Pop, Iona College, New York, NY, USA